Lighting and Grip.
You'll find our lighting and grip inventory very extensive, including a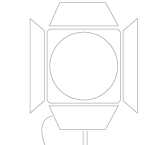 variety of specialized equipment and tools selected with the needs of the still life photographer in mind. Our inventory of Profoto Pro-7 flash equipment is deep, including many of the specialized light shaping accessories such as: ProBoxes, Pro ZoomSpots, Pro MultiSpots, Pro FresnelSpots, Pro StripLights and more. Our selection of banks and strips is large. We stock Chimera, Plume Wafer and Elinchrom Octa banks.
In addition to strobe you'll find Aputure LED's, Arri Fresnels (1.2K HMI and 300W - 2K tungsten), Dedolights (HMI and tungsten) and Kinoflo's (12" - 48"). Our stock of grip equipment is extensive with a wide range of items useful for many lighting situations. On each studio's equipment wall you'll find an impressive assortment of clamps and unusual accessories. We have a large selection of flags, silks, nets and solids (3" dot - 12'x12'). If you don't see what you're looking for, please ask. We have too many items to list and our inventory is continually expanding.
Profoto
Softboxes
Continuous lighting
Stands, Booms, Grip
Silks, flags, reflectors, Light Modifiers, etc.
Tripods, Heads, Foba Camera Stand
Pocket Wizard, Meters, Fog and Wind Machines
Set and Backgrounds